Dressing to Influence & Body Language
Dressing to Influence & Body Language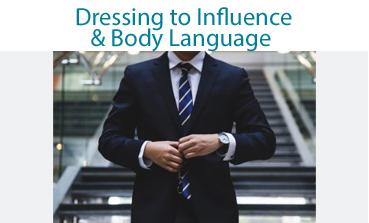 "Dress for the job you want, not the one you have."
"Dress builds trust & respect."
Overview
Dress for success and show the world what you're made of. Learn how to make your personal qualities shine with your professional fashion sense and body language. In this workshop, you will learn how to utilise attire and behaviour to sharpen your competitive edge.

Workshop Contents

Project a Positive & Professional Brand Message
Business Dressing Do's & Don'ts
Colour & Style Imaging
Dress Codes for Men & Women
Grooming for women
Women's & Men's Dressing & Accessories
Body Language
Duration
1-day workshop
Learning Outcomes
Describe how to project a professional image of world class standards and beyond
Express a consistent professional brand message
Demonstrate self awareness and self confidence