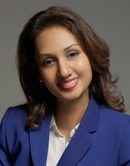 Senior Trainer and Coach
Ayanthi Philip is a passionate global trainer and senior consultant, garnering her work experience of over a decade with global and multinational companies.
Ayanthi graduated with a Masters in Business Administration, and a Bachelor of Science Honours Degree from the University of Manchester, UK. She holds certifications in Effective Speaking (Trinity College) and Neuro-Linguistic Programming. She also has a Diploma in Marketing from CIM, UK and is accredited with Harrison Psychometric Assessments.
She is on the research panel at MTI Consultancy and is a guest columnist for the Daily Financial Times of Sri Lanka. The recent launch of 'Business English for Sri Lanka' with the Royal College Skills' Centre has brought her popular acclaim. Ayanthi conducts programs in Effective Communication, Emotional Intelligence, Presentation Skills, Personal Branding, Business Etiquette, Business Writing, Coaching & Mentoring and Service Excellence.
The diverse and global work experience that Ayanthi has received, gives her a broadened perspective, an appreciation for different cultures and deep insight into global business functions. These experiences are crystallized in all her corporate assignments.
Ayanthi's Experience
Bank of Singapore
Camso Loadstar
Deutsche Bank
DBS Singapore
Dialog Axiata PLC
G.T. Nexus
HSBC
Marketing Institute of Singapore
MAS Capital
MAS Intimates
Nanyang Technical University
P.T. Sumbiri Indonesia
Sun Resorts Mauritius
Standard Chartered Bank
Textured Jersey Lanka
Unilever Egypt