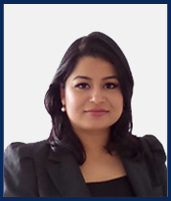 Parul Sandhu Chopra is dedicated trainer recognised for her positivity, patience, and professionalism. She empowers her participates by being a catalyst for change & growth. With a background in psychology and over 10 years of work experience within the Education and Corporate sectors, Parul is dedicated to making each workshop a success and facilitate the path to self-actualisation for herself and her participants.
Parul is a dynamic and energetic trainer, who truly customises each training to suit her client needs. She uses a variety of activities to engage and connect with her participants. A big proponent of 'growth mindset' herself, Parul hopes to empower participants to navigate their professional and personal lives more effectively.
She facilitates workshops such as:
Art of Negotiation
Business Networking
Communication for Win-Win Outcomes
Conflict Resolution
Cross Cultural Communication
Deportment & Etiquette
Effective Presentation Skills
Email writing
Emotional Intelligence for Peak Performance
Influencing Without Authority
Networking
Personal Assertiveness & Communication
Professional Branding & Grooming
Service Excellence
Stakeholder Management
Parul is fortunate to have had exposure to many different cultures from a young age. Born in India, she moved to Hong Kong and now lives in Singapore. After graduating from Canadian International School in Singapore, she went to Canada and got her tertiary degree in Psychology, from University of Toronto. Returning to Singapore, Parul completed her Post Graduate Diploma in HR & Talent Development and attained her ACTA-Advanced Certificate in Training and Assessment and Harrisons Assessment Debriefing and Coaching accreditation. With her love for continuous learning, Parul likes to read across various genres and listen to relevant podcasts and videos for personal and professional growth.