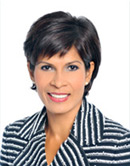 Senior Trainer & Coach
Sharlyn Stafford is a dynamic, successful and passionate corporate coach, trainer and facilitator with more than 25 years of experience facilitating corporate training programs in Singapore, in North and South East Asia, Australia, Europe and North America. As a founding partner of Stafford & Chan, established since 1994, Sharlyn interfaces with organizations to provide individual and team coaching, consulting or training to their executives, managers and leaders.
Sharlyn's personal value proposition 'to make a difference with passion and purpose' has inspired individuals in their lifelong learning and self-knowledge to achieve career results and to reach personal goals. The tangible outcomes delivered to her clients have established Sharlyn's reputation as an expert in people development. Her focus on leadership coaching and corporate training with a firm foundation in leadership, interpersonal/relationship skills, emotional intelligence and communication skills has garnered her a steady clientele in manufacturing, banking, education, retail, hospitality, technology and government organizations.
Professionally trained by Corporate Coach University, Sharlyn graduated with honours from the University of Waterloo in Canada, with a degree in Business Studies and Tourism. She trained as an image consultant at Colours International in Toronto, Canada in 1985. To advance her skills as a trainer, consultant and coach, she has been accredited in Extended Disc and Harrison Assessments. She is also a licensed Think on Your Feet presenter and a practitioner in Neuro-Linguistic Programming.
Her success in starting her own business consultancy and training company (1985 in Sydney, Australia and 1994 in Singapore) overseeing a team of colleagues and being an avid competitive sports person has served as a rich backdrop for her profile as a professionally qualified corporate trainer, facilitator and coach.
She has authored and published two books.
'Imaging for Women' and 'Personal Branding for Men' available in bookstores and from www.staffordchantraining.com
Sharlyn's experience:
Banking & Finance

Bank of Singapore (BOS)
Credit Suisse
Deutsche Bank
Lombard Odier
UBS AG
United Overseas Bank (UOB)

Services

AIA
GfK
Rohlig Logistics

Hospitality and Travel

One & Only
Raffles Hotel
Singapore Airlines (SIA)
Sun Resorts
Wynn Macau

Manufacturing

Johnson & Johnson
Laughfs Holdings
MAS Holdings
PepsiCo International

Technology

Grasshopper
PayPal
CISCO Systems