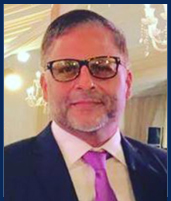 Nasir A Kausar has over 29 years of corporate experience in the US, Europe, and Southeast Asia; covering fund management, private banking, corporate /investment banking and seed investing in the tech and fin-tech space. Beyond his corporate career, Nasir has also been an entrepreneur in the food and beverage industry, cosmetics and fragrances, and in transportation and logistics. He is currently a Board Member of a UK fin-tech start up, as well as President and Board Member of the American Club in Singapore.
Passionate about emerging new technologies, Nasir, most recently, was the Chief Development Officer at Chronos Inc, a company developing precise 3D geolocation and situational awareness solutions using AI. From December 2009 to January 2015, he was CEO of a boutique fund management company in Singapore, investing in public and private markets with a keen focus on investing seed capital in technology start-ups.
Prior to 2009, Nasir worked in senior level positions at several banks as regional Managing Director and as Country Market Manager for Singapore and Malaysia. From 1995 to 2006, Nasir worked at Citibank in various roles in the Global Corporate and Investment Bank and the Private Bank.  At Citibank Private Bank he was awarded Citigroup Deal of the Quarter and was made Member of the exclusive Citigroup Private Bank's Chairman's Council. In the Global Corporate and Investment Bank, Nasir received a record eight Global Relationship Bank Awards for the coordination, performance and management of complex global client relationships. As a result, he also received the prestigious Citigroup's Chairman's Club award in 2000. At Citibank, Nasir was part of a team instrumental in setting up the Bank's first ever Regional Account Management program covering complex regional clients in Asia from Singapore. Due to its success, this model was replicated globally.
During his banking career, Nasir was selected as a recruiter for the Bank's mid-career emerging markets Associates program and as a mentor to mid-career hires coming into banking. Nasir received leadership training by a variety of renowned executive training providers such as PDI, CCL and Harrison.
From 1991 to 1995 Nasir worked at Philadelphia National Bank (PNB) in Philadelphia starting in the Bank's prestigious intensive two-year credit training program followed by a successful placement into the Bank's International Division. At PNB, he successfully implemented the innovative credit risk trading desk which was instrumental in managing Latin American credit exposure successfully during market volatility.  While at PNB, Nasir was the youngest member of the Bank's Diversity Taskforce where he led focus groups and discussions which resulted ultimately in the Bank's adoption of its new Diversity policy.
Recognized for his successful and dynamic presentation skills, Nasir was a Regular sports (football) analyst/pundit on ESPN Star Sports (Asia) and The Football Channel. He has also been a presenter, panelist and speaker at finance industry events and at local universities. Nasir has consulted and advised clients on market strategy, digitization, compliance and fund raising for start-ups. He also worked as a part time Associate Faculty member at UNISIM University Singapore School of Business where he taught FIN 301 (Financial Instruments, Institutions and Markets) and FIN 307 (Financial Institutions).
Prior to starting his career, Nasir received his MBA in International Business and his B.S. in Economics and Italian from the University of Wisconsin in 1989 and 1987 respectively. Nasir completed his schooling at Mary Mount International and Notre Dame International schools in Rome, Italy – where he was raised. Originally from a multi-cultural and multilingual background, he is fluent/conversant in English, Italian, Urdu, French and Spanish. Nasir remains an avid sportsman to this day having been a former Club Squash champion, soccer player in high level amateur leagues in the US and Italy, a golfer, and tennis player.