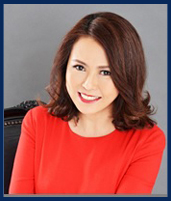 Shirley Han – As a Training Consultant & Executive Coach in Personal Empowerment since 1999 – Shirley Han's professional drive is in helping people perform at their 'Zone'. This is often described as a peak state harnessed from their innate abilities, passions, and purpose. Shirley's unique skillset allows her to help learners build on their foundation of attitude, skills and knowledge, mitigate psychological hurdles, and foster a sustainable learning road map to achieve their aspirations and goals.
Workshops Shirley conduct with much passion include: – Professional Branding & Grooming, Etiquette & Deportment, Emotional Intelligence for Peak Performance, Mindfulnessfor Leaders, Presentation Skills, Leadership and Managerial Skills, Personal Impact, Service Excellence, Business Networking, Interpersonal Communication, CrossnCultural Etiquette, Assertiveness Skills, Negotiation Skills, and Conflict Management.
Much of Shirley's passion and forte in Persuasive Communication is honed from her 10-year experience in Advertising, Public Relations, and MarComs – during which she worked in the capacity of a Creative Director and Copywriter.
Shirley is a Certified Professional Co-Active Coach with Co-Active Training Institute, recognised by Harvard Medical School as the gold standard in Coaching.
Qualified facilitator in:
Adult Training & Assessment (ACTA)
Harrison Assessment
Neuro-Linguistic Programming
Extended-DISC
Psychological First Aid
Professional Membership:
APACS (Association of Psychologists and Counsellors Singapore) – Executive Committee
EMDR Singapore
Academic Lineage:
Master of Counselling – Monash University
BA in Economics, Sociology and Philosophy – National University of Singapore
Hwa Chong Junior College
Raffles Girls Secondary School