Shirley Han
Shirley Han joins Stafford & Chan (Training) Pte Ltd in 1999 as a Training Consultant and Coach in Personal Empowerment courses. Shirley's personal drive in life is to seek out the unique talent and ideas within each individual. She then relishes 'polishing the pearl' with the person. She firmly believes that living one's highest excitement is indicative of achieving one's fullest potential in life.
The workshops Shirley conduct with much passion include: Leadership Skills, Professional Branding & Grooming, Etiquette & Deportment, Service Excellence, Emotional Intelligence, Presentation and Speaking Skills, Announcement Making, Business Networking, Interpersonal Communication, Cross Cultural Etiquette, Assertiveness Skills, Negotiation Skills and Conflict Management.
Shirley is NLP trained with the Master Trainer Institute of New York and is a qualified Extended-DISC and Harrison Assessment facilitator. She is a Corporate and Life Coach currently certified by International Coaching Federation via Co-Active Institution, recognized by Harvard Medical School as the gold standard in Coaching.
Shirley has a Bachelor of Arts Degree in Economics, Sociology and Philosophy from the National University of Singapore; and has enjoyed her pre-university days with local institutions – Hwa Chong Junior College & Raffles Girls Secondary School.
Besides being a trainer, Shirley's overall experience covers Advertising, Public Relations, and MarComs – during which she works in the capacity of a Creative Director and Copywriter overseeing artistic development and press liaison.
Shirley's experience:
Banking & Finance

ABN-Amro, AON, AIA, AVIVA, HSBC, CitiGroup, BOS, SGX, Credit Suisse, Deutsche Bank, DBS, SGIC, UBS, KPMG, UOB

Travel

SIA, Silkair, Air Mauritius, Tradewinds,
Changi Airports Intn.

Hotel

Fullerton, Mandarin Orchard, Marina Mandarin, Raffles, Wynn

Technology

ST Aerospace, CISCO Systems, Alpha Analytical, DSO National Lab, National Computer Services

Manufacturing & FMCG

Johnson & Johnson, Baxter Healthcare, Siemens, Canon, Firmenich, Koehler, SONY, Unilever, Luxasia, SANDEN, Pfizer, Schwarbe Pharma, Henkel

Retail & Services

TANGS, Cathy Cineplex, CapitaLand, CPF, HDB, MINDEF, MCDS, LTA, CitiGas, SMRT, A*Star, S'pore Pools, PSA, GFK, Keppel, Raffles Medical, Lexis Nexus

Education

NTU, NUS, SUTD, Temasek Polytechnic, Marketing Institute of S'pore, LKY School of Public Policy, School of Military Intelligence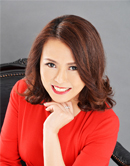 Senior Trainer and Coach